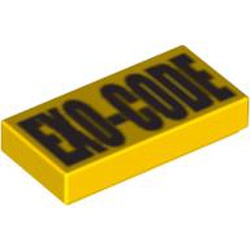 Element
LDraw
Photo
This part has a unique Access Code Engraved on it. As Lego may have intended the codes to be kept for use by the owner we do not want to risk any issues that may arise from us publishing any codes.
For these reasons we have used the Element ID's with the generic pictures (All known element ID's are on the part but those with visible codes are inactive) and will not be accepting any photo submissions for this part.
Available Colors
Toggle Available Colors
Click on a colored part below to see the Sets and MOCs that use part 3069bpb078 Tile 1 x 2 with Engraved Code for Exo-Force in that color. You can find an overview of all LEGO Colors here.
If a color is missing, it probably needs to be added to a Set Inventory.