MOC Spider-Man Spider Bike Minifig Scale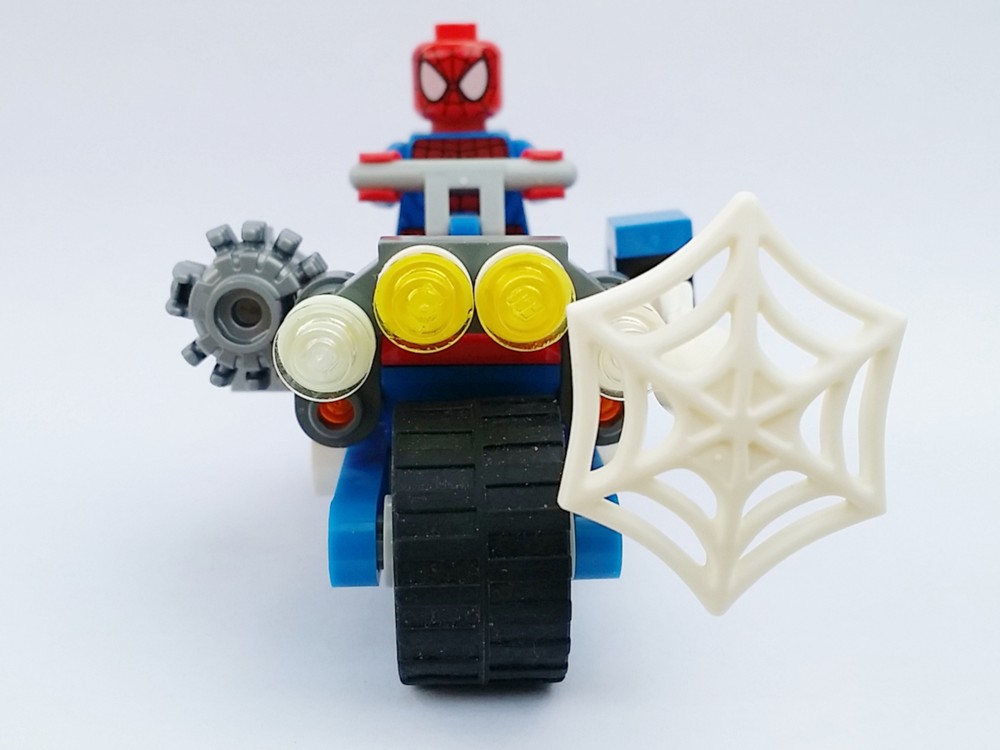 Spider-Man Spider Bike Minifig Scale MOC!
This MOC is a creation out of research and ideas. To be fair, this MOC has inspirations from Ninjago Lego Set 30531, and Spider-Man Lego Set 76113. However, this is really neither of those kits as the end result.
I own both the Ninjago, and Spider-Man kits. One of the things I liked about the Ninjago Set was the overall design, and what I liked about the Spider-Man set was the additional Spidey Fig (Yay!), and the kit parts (especially the energy machine!).
The real inspiration for my MOC comes from Spider-Man Lego Set 76014, a set I also own in multiples. I wanted Spidey to have a new machine in his hero arsenal. A machine that was capable of night time operation, and featured his modern day super hero gear.
When I looked at the Ninjago Design and the Spider-Man Spider-Trike (Set 76014), I realized that many of the parts I needed were in the Spider-Trike Set (Yay!).
So Set 76014 became the main "donor" for my MOC. There is enough difference in design elements and choices to clearly say that this design is substantially different than the Ninjago 30531 and Spider-Man 76113 designs that I think it can stand on its own as a MOC.
The build was pretty straightforward at the "base level". But as the build goes up, it becomes a hybrid-like version of Sets 76113 and 30531 using a substantial portion of 76014 plus some detail parts to give the bike night time operations, something that Set 30351 doesn't really need. The key difference in this Spidey Bike is that it follows true Minifig Scale and features detail elements found in non of the kits mentioned.
So, with that, the design sits here as shown as Revision 1.0. Overall, I am satisfied with the design, but I am keeping my eye out for new Lego kit parts that might enhance Spidey's new bike in the future.
Thanks for looking and see you on my next post!
Already have some of the parts? Use the
Build this MOC
page to only show the parts you are missing.
Waiting for Inventory to load