Ford Mustang Hoonicorn V2
Ford Mustang Hoonicorn - Filter fire 🔥  Chrome Rims from Bubul chrome shop - follow insta @loxlego by lachlan cameron, on Flickr
Ken Block's 1,400bhp Hoonicorn Mustang V2! When I say that this is the absolute most frightening thing ever driven, I'm not exaggerating. At all. 
In the words of TG's good friend Ken Block - "This beast is an upgraded iteration of his crushingly fast, four-wheel-drive 1965 Hoonicorn Ford Mustang RTR." 
Ford Mustang Hoonigan- engine bay goodness 👊 by lachlan cameron, on Flickr
Sometimes in life you just need a bronze shifter 😊😎😉 by lachlan cameron, on Flickr
M
eet the Hoonicorn V2. By adding two turbos to that monster 6.7-litre Roush Yates V8, It manages to churn out 1,400bhp at the crank. 
Ford Mustang Hoonigan nation - outdoor shots - follow @loxlego by lachlan cameron, on Flickr
This model RC Technic MOC comes loaded with options: Red shifter switches high / low speed, 4wd, V8, working steering wheel and steering, opening hood trunk doors, 8 lights, brand new in-board suspension - single spring without torsion bar... chrome all over - Available in manual, 2 Buggy motors or 2 Xl motors and 2 buwizz. 
Hoonicorn flare - HDR by lachlan cameron, on Flickr
A huge shout out to the team at @buwizz_brick who made an amazing upgrade to their software - making it absolutely the most powerful battery and software of choice!! This hoonicorn RIPS due to the ludicrous mode on buwizz, and has 4 different settings from Slow to Ludicrous that really make this car an 8 speed machine. 
Follow Instagram! 
https://www.instagram.com/loxlego/
Flickr gallery: https://flic.kr/s/aHsmB6w6Zj
PLEASE NOTE! 2x BUWIZZ are not in the part list!! 
Hit up this link for the buwizz! https://buwizz.com/?ref=15
All of the chrome items were switched to light blueish grey coloy, except PN  2999 (the turbo) which is light gray.
All these chrome parts are avail here - Bubul chrome has created this chrome pack for this specific car - ask him for details here: https://store.bricklink.com/Bubul
Ford Mustang Hoonicorn chrome option by lachlan cameron, on Flickr
The lego car blog: https://thelegocarblog.com/2019/02/27/hoonigan/
Pro sticker pack will be avail by Jaap Technic very soon - stay tuned!
https://www.jaaptechnic.com/p/stickers.html
This car was designed with 2 Buggy motors, but if you would like a cheaper option for the car see the photos below to convert to XL motor version and manual version.
XL Motor swap for the Ford Mustang by lachlan cameron, on Flickr
Ford Mustang Manual Version by lachlan cameron, on Flickr
Ford Mustang Hoonicorn- red and bronze chrome 😱 follow @loxlego by lachlan cameron, on Flickr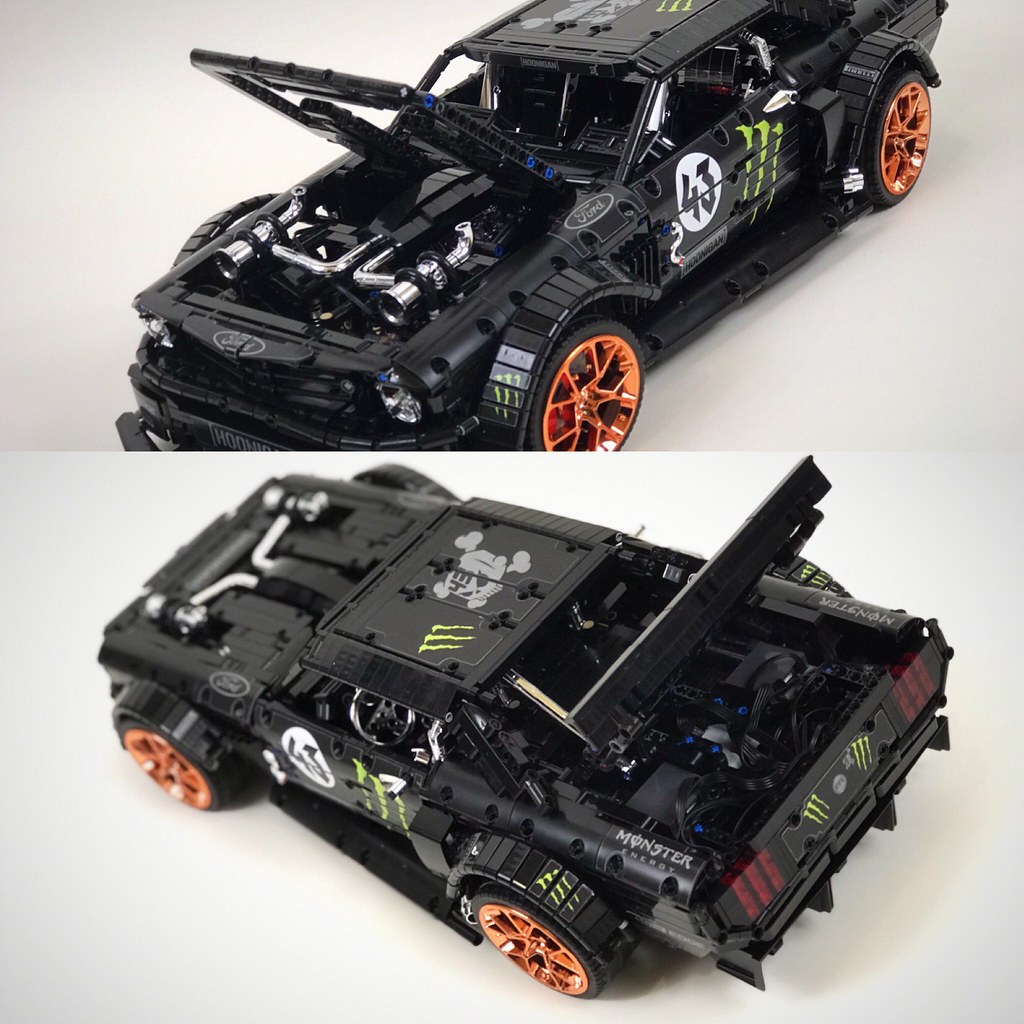 Already have some of the parts? Use the
Build this MOC
page to only show the parts you are missing.
Waiting for Inventory to load
Building Instructions For Sale
This is a Premium MOC, and the instructions to build it are being sold by the designer (Loxlego) for £22.00
You will receive building instructions of type PDF - Photo Sequence from the designer once you have organised payment with them.
You might like these other similar Premium MOCs
Help Guide - BI File Types