The DARK ASTER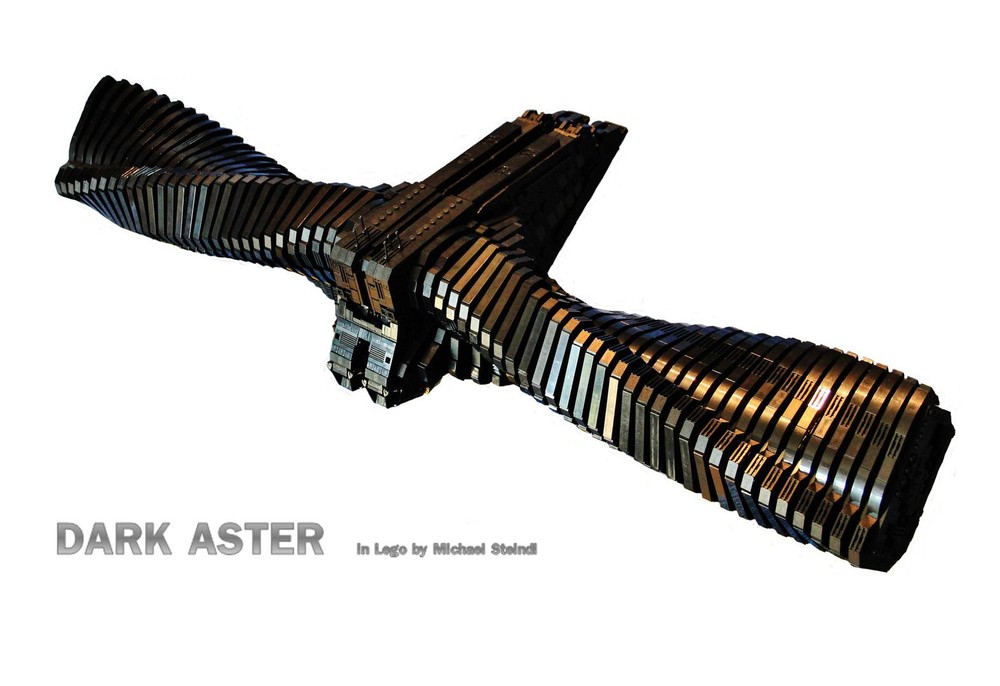 an Kree Warship of the movie Guardians of the Galaxy
the Ship of Ronan the Accuser.
Its size is 3 miles wide.
Though the vessel had no weapons of its own, it served as a carrier for
the Necrocraft, housing hundreds within its rotating wings.
I had luck to talk to the designer Tim Blake, who said that the rotating
mechainsmus wasn't any spezial idea - it just looks cool... and yes
this it is - just cool ! as it can turn also on this model. Pretty crazy, but it works.
The only thing was that he hadn't any blueprints of this ship, because
everything is in marvels hands… So I had to measured out many times the
pics and get crazy, in fact that this ship looks so different on
different angles…. also the angles and distances between all these
slides...make have a stud other way and it looks so sh… o.k. you can
look on my first version yourself ;-)
So because of that I never delete so many times like this before hole
sections. Do it again - do it again - do it again. ah this could maybe
run ;-)
Now (3 years later...) my Lego version is about 108 studs wide and it's
done for this years (2018) Shiptember. It's made out of nearly 7000
pieces
The ship gets in complete with
wide: 108 studs
height: 19 studs
length: 42 studs
Update 15.06.2019:
For now the instructions are available as an 435 pages pdf version (made by Simone Bissi)
If you like to built this moc and have the file of send me a mail to: *
[email protected]
*
Update  25.08.2019:
No if you want to buy this as an hole set with parts it's possible via Project-Moc. Look here:
https://project-moc.com/shop/moc-dark-aster-presale/
Already have some of the parts? Use the
Build this MOC
page to only show the parts you are missing.
Waiting for Inventory to load
Building Instructions For Sale
This is a Premium MOC, and the instructions to build it are being sold by the designer (Mihe Stonee) for €30.00
You will receive building instructions of type PDF - Generated from LDD from the designer once you have organised payment with them.
Help Guide - BI File Types