Volvo EW160E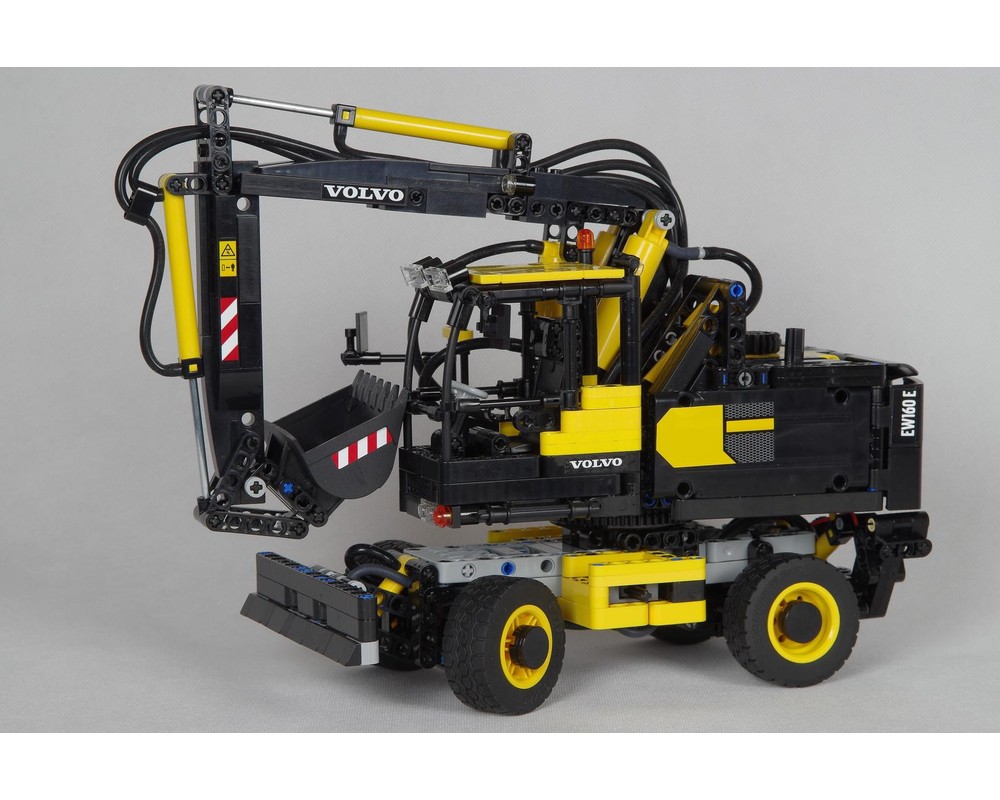 This excavator is build in scale 21,5:1 and features 7 pneumatic functions:
- front blade
- rear stabilizers
- liftable cabin
- 2 stage boom
- arm movement
- bucket movement
Beside that there is pendular front axle with Ackermann geometry and HOG steering wheel at the back. Superstructure rotation is by knob near pneumatic switches. There is also ball hitch for trailer. The goal was to make the model as accurate as possible according to blueprints. The boom movement is a little bit worse due to length of pneumatic cylinder that moves the second half of boom. Also cabin lift is little bit limited by same cylinder. The biggest drawback is bucket, unfortunatelly LEGO is not making suitable one.
Beside the parts shown in PL you will need tubbing is total length 400cm in approx. sizes:
10x 2cm
2x 4cm
7x 7cm
1x 10cm
4x 12cm
1x 17cm
1x 20cm
1x 23cm
2x 25cm
1x 32cm
2x 40cm
1x 47cm
Something heavy as counterweight, I have used empty shell from small BB filled with 250g of steel washers.
If you like the creation and instructions you can make donation to my paypal
https://www.paypal.me/IvanMoc
Already have some of the parts? Use the
Build this MOC
page to only show the parts you are missing.
Waiting for Inventory to load